On April 6, 2013 Lynn Marie Photography and Fibber McGee's will host "Celebration of Smiles Day," a wonderful opportunity for you to update individual portraits of your family members and at the same time, support the work of Operation Smile, which treats children around the world who suffer with cleft lips, cleft palates and other facial deformities.

Along with other participating members of Professional Photographers of America (PPA), I have pledged to donate 100% of each $24 donation made to PPA Charities, which has chosen Operation Smile as its charitable partner.

Recording the smiles of children and their families is a great pleasure to me. That's one reason I believe so strongly in the work of Operation Smile. Each year this incredible organization of more than 5,000 volunteer doctors, nurses, dentists, and specialized health care professionals, perform free reconstructive surgeries for children suffering with cleft lips, cleft palates and other facial deformities.

Every three minutes a child somewhere in the world is born with a facial deformity. One in ten will not survive to see their first birthday. Those who do survive often live in isolation and pain. More than 100,000 children are born with a facial deformity each year in Operation Smile's 26 partner countries. Tens of thousands remain untreated.
Click here to learn more about Operation Smile.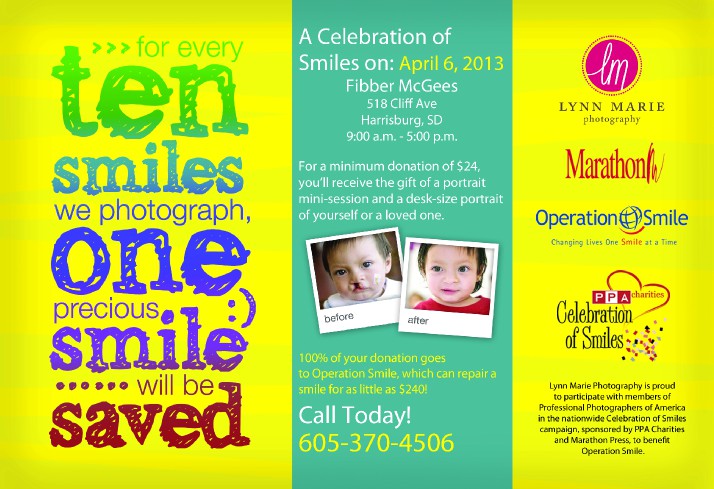 Event Information
Donate $24 and receive a 5x7 print

100% of all donations goes to Operation Smile

Reserve your time slot in advance (click on Special Events above or follow the instructions below)

Portrait sessions will be held at Fibber McGee's in Harrisburg, SD

 Fibber McGee's is located on S Cliff Avenue, next to Showplace Kitchens
Session Information
Each session is 15 minutes

Only individuals will be photographed

Standard headshot poses will be styled

You must check in prior to your session

Additional products are available ala carte

A standard

Model Release must be signed beforehand or at check in
Only cash or check will be taken on the day of the event

Booking Your Session

To reserve your time and make your donation by credit card, click here and follow the instructions below:

Click on "Celebration of Smiles - April 6, 2013"
Select the time you wish to reserve from the "Please Select Your Time" drop-down menu

Click "Add to Cart" (If you are reserving more than one time slot, click Continue Shopping and select another time slot to add to your cart)
Click "Go to Cart" and review the information for accuracy
Click "Secure Checkout" and complete the checkout process

After the Session

Photographer will choose your 5x7 gift print

You may order additional prints on the day of the event


Your print and additional items, if ordered will be ready for pick up or delivered within two weeks
I hope you will join with us in helping to make this vital work possible. I look forward to creating some truly wonderful portraits of you or your family members.
Warmest Regards,
Lynn